William Jefferson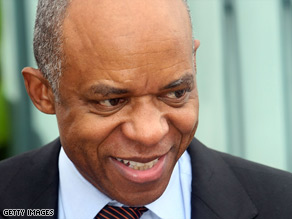 Finally justice has been served but you don't

hear Jack from the media.
The FBI raided his office in May of 2006 and found $96,000 in his freezer and charged him with bribery. Unbelievably, the idiots in New Orleans actually re-elected him later that same year!
Speaking of idiots. Who could forget the infamous mayor who suffers from chronic diarrhea of the mouth.




Remember Ray
(I want to make this town Chocolate again)
Nagin.


When you have people who are inept and corrupt running the city, and the residents (knowing that) voted for them, how can you now scratch your head wondering why the city is the way it is?

It never was about money not spent on (Katrina) New Orleans. Its what happened to it after it got there.




Former U.S. congressman convicted in bribery case
Last Updated: Wednesday, August 5, 2009 | 6:08 PM ET
The Associated Press
Former Louisiana Representative William Jefferson walks to federal court in Alexandria, Va., on Wednesday. (Kevin Wolf/Associated Press)
A federal court jury in suburban Washington, D.C., has convicted a former Louisiana congressman on 11 of 16 counts including bribery in a case in which agents found $90,000 US in his freezer.
Former Democratic Representative William Jefferson is accused of accepting more than $400,000 in bribes and seeking millions more in exchange for brokering business deals in Africa between 2000 and 2005.
He had represented parts of New Orleans for 18 years until his defeat in 2008.
The jury deliberated five days before returning the verdict Wednesday. It was an eight-week trial.
Jefferson's attorneys say he was acting as a private business consultant and his actions did not constitute bribery under federal law.
In August 2005, FBI agents searched Jefferson's Washington home and found the cash in his freezer, wrapped in foil and hidden in boxes of frozen pie crust.
If the money is legit what's it doing in the freezer?